Shopify email notifications are a way of letting your customers keep up to date with the status of their order. They aren't just for your customers though, Shopify email notifications can be sent to staff and yourself, for example if you want to know that a new purchase has been made and you need to fulfill an order.
How to Set Up Shopify Email Notifications
Setting up or updating your Shopify email notifications is easy and they can be located by going to: Shopify admin > Settings > Notifications.
There are several types of Shopify email notifications that you can edit or preview there: new order notifications that can be sent to you or your staff, or outbound notifications about order status that can be sent to your customers. By enabling new order notifications, you and your staff will always know when a customer placed a new order and anyone subscribed to your Shopify admin will then get a notification.
To add a staff order email notification, you have to go do Settings > Notifications, and then find the Order Notifications option. Then, choose to add an order notification and then select email address from the drop-down menu. Add the email address that you want to send the notification to, and finally, click on Add notification.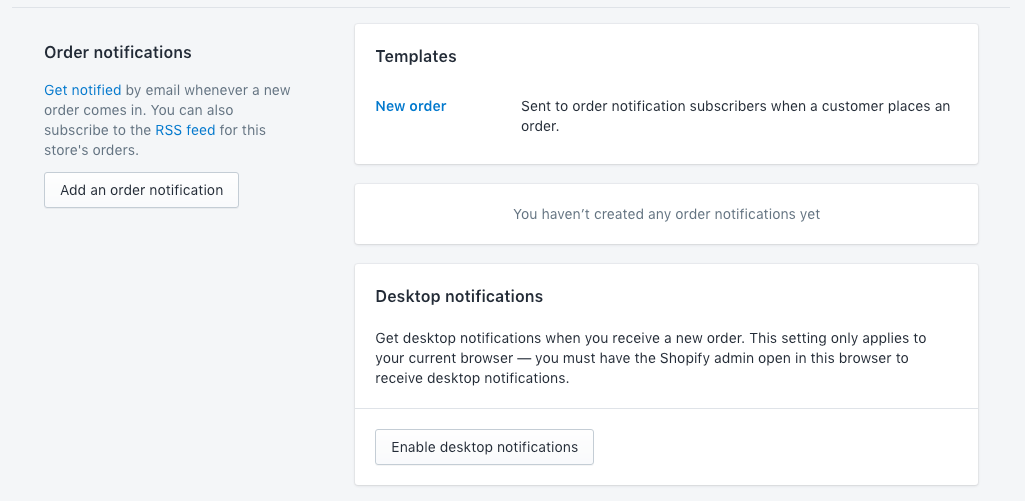 There's also an option to add the location parameter to these notifications, which will send notifications for a specific location only. To make sure your Shopify email notifications setup works as intended, send a test notification first before sending out to staff or customers.
How to Customise Shopify Email Notifications
If you want to bring your Shopify email notifications in line with your brand, you can add some personalisation. When you set up your Shopify store, you may have noticed that you already have several email templates available. Simply customise these by adding your logo and brand color palette to ensure they are easily recognisable by your customers.
If you need more advanced Email template designs you'll need to hire a Shopify expert to do this for you.  You will need to be able to write intermediate HTML/CSS in order to customise your email templates.

Are Shopify Email Notifications the Only Option?
No. If you have particularly mobile friendly customers who would prefer to get notifications via SMS, you can set this up as an SMS update after they place the order.
Simply set this up in your checkout settings within Shopify.  This is a relatively new feature which many people are still not using but can be great for younger audiences who don't use email as much.
There are also some apps within the Shopify app store that can render templates for you.
Which Clients Support Shopify Email Notifications?
When you send out store notifications – you want to be sure that they can be read on the devices your customers are using.
All the main email providers can support the default Shopify email Notifications and these include:
iOS Mail
Apple Mail 8,9
Outlook
Thunderbird
Gmail
AOL Mail
Office 365
AOSP email client
Yahoo! Mail
If you've customised your email templates with extra code you'll need to re-test them on these providers to ensure they are rendering correctly.
How to Disable Shopify Email Notifications Sent to Customers
You will notice that when it comes to sending Shopify email Notifications to customers, most of them are already sent automatically, and can't be disabled. However, there are several notifications that you can disable:
Cancelled order – Automatically send to the customer when the order is cancelled. To disable it, when on the Orders page, go to Cancel Order and uncheck the Send notification to the customer.
Refund – Sent notifications to the customer when the order is refunded. To disable it, when on the Orders page, go to Refund and uncheck the Send notification to the customer.
Shipping Confirmation – Let customers know you've fulfilled an order. To disable it, when on the Orders page, go to Continue and uncheck the Send shipment details to your customer now.
Shipping Update – Update them about their shipping automatically. To disable it, when on the Orders page, click the order number and then go to Fulfillments > More > Edit Tracking. Edit the tracking details and uncheck Send notification email to customer.
Abandoned cart – strongly suggested to leave this on.
Want to send email @yourdomain.com from Shopify?
If you're looking to send and receive email on your domain via Shopify then you'll need to use a dedicated email hosting service.  We offer email hosting specifically for Shopify stores and are the only hosting company in the world to offer this!
Our platform was built by official Shopify experts and we're working right now on fully integrating mail into the backend of Shopify.


Built by official Shopify experts since 2014: