Finding the best email marketing apps for Shopify is important because merchants can use these channels as an easy way to:
Follow up with customers
Push out promotions
Help generate more sales.
The hard part is finding the best platform and app that works with your Shopify store.
The Best Email Marketing Apps For Shopify Merchants
The best email marketing apps for Shopify will have to be compatible with third-party email hosting (or provide their own) because Shopify doesn't offer email hosting yet. Shopped Email is a third-party option that offers dedicated Shopify hosting. Plus, they help set it and connect it to your Shopify store. They are just an email host, however, not an email marketing app.
For email marketing apps, you should look into MailChimp, which is the most popular option, closely followed by Drip.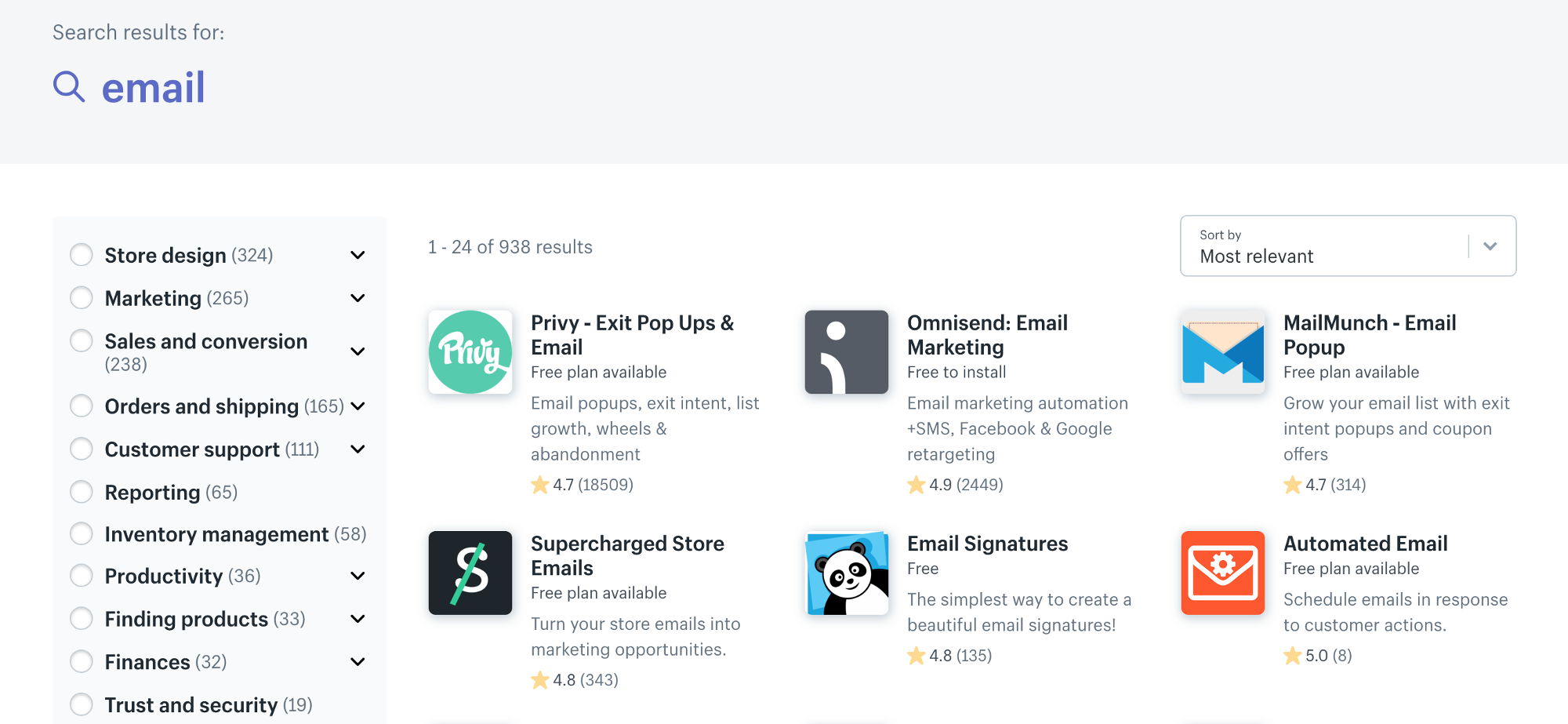 MailChimp
MailChimp is primarily aimed at small business owners, so if you're just starting out with Shopify, this is a good solution for you.
It has a ton of features across all their plans including options to:
Create campaigns, landing pages, pop-ups, and postcards
Automate your marketing with welcome emails, abandoned cart messages, recommendations, date-based automation
Optimise your marketing with segmentation and tagging, reports, and A/B testing
There are three pricing plans to choose from:
Free – Includes all features above + 2,000 subscribers and 12,000 emails each month.
Grow – $10/month starting price + unlimited subscribers and emails + you can remove the MailChimp footer and have unlimited email and chat support.
Pro – $199/month starting price for unlimited subscribers and emails + premium support, advanced segmentation, and reports.
MailChimp Shopify Integration is free and easy to set up. Once you connect your store with your MailChimp account, your store data will sync to MailChimp. This allows you to tailor your campaigns and automation based on customer behaviour and previous purchases. You will be able to segment your customer base for better targeting and get insights about site traffic and sales.
Drip
Drip is a more comprehensive marketing platform compared to Mailchimp – email marketing is just one among many marketing features. Within the email marketing department, the most important features include:
Email Builder that supports stock and visual emails.
Automation Workflows with a wide range of simple and complex triggers.
Customer Timelines for easy tracking of each individual customers.
When you connect Drip, your customer list and order history will sync to it. Then you can set up triggers for things like cart abandonment or making a purchase.
Final Verdict on The Best Email Marketing Apps for Shopify
Although they are similar, MailChimp is the better option and has better Shopify integrations specifically. Even though Drip offers comprehensive features, they are more expensive and not focused solely on email marketing, but online marketing in general.
MailChimp's free plan offers access to numerous features that you can only use with Drip when you pay for one of their plans, and MailChimp's Shopify integration is free to use and gives you a better overview of what's happening!